WEEKEND FINDS
Treat Yo'Self
TOGETHER WITH BONUSLY
One-on-One Meeting Agenda Template
🗒️ A proven structure for effective and productive one-on-ones.
✅ Fillable form fields to record agenda and action items.
📄 Customizable Word and Google doc templates to fit your needs.
💡 One-on-one meeting best practices.
📘 Additional resources to help you improve your one-on-ones.
FROM SHOPCV
How to adapt to a different work culture of another country
Are you moving countries and worried about adapting to a different work culture?
Are you a traveling sort who wants to weigh up where to work next based on the working culture?
Displaying your ability to adapt to different working cultures can be an excellent addition to your professional skills!
We know that working cultures vary from business to business but countries tend to have different working cultures too. These can vary in reasons. It can be the type of company you are joining: an investment bank will have different standards and value different types of work compared to an NGO.
TOGETHER WITH NUTRAFOL
 Growth Mindset to Great Hair
Looking for an effortless and effective hair routine that will take your hair from thinning to winning 🏆?
Here's the 411 on Nutrafol's Fullest Hair Growth Kit:
🌿 Powered by natural, medical-grade ingredients
💁🏻‍♀️ Improves hair growth, thickness & strength
⚡ Boosts cell renewal at the scalp
Subscribe today and start seeing results in as little as 3 months.
A QUOTE TO LIVE BY
From Tom Landry
"Today, you have 100% of your life left."
Joanna's Recs
Cameron's Recs
Show to binge 📺 :
Gossip Girl
Song to bump 🎵:
GOD DID by DJ Khaled
Podcast 🎙️:
The Rewatchables
Movie 🎬:
Me Time
PARTNER PICKS
In Case You Missed It…
Sunsama is our top choice when it comes to digital planners. Try it free.
TeamOut is an online platform where you can easily book a team retreat so you can build stronger relationships with your work fam.
monday.com is the swiss army knife of project management software — and you can try it free today.
The Daily Upside helps you rethink your financial news diet and gives you crisp, unbiased business insights each morning for free.
NEW & NOTEWORTHY
Latest Listings
🚨 Job Openings
👉 We've launched our
Private Facebook Group
!
Join today
.
PETS OF THE WEEK
LB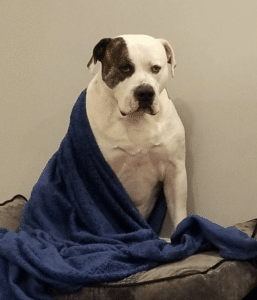 Everyone say "hi" to LB! This chonky boy embodies how many of us feel when that "morning person" of a coworker blasts us with a cheerful good morning greeting followed by more conversation than we're ready to have. He's an American Bulldog and his name is actually the abbreviation for pound because he's about 150 of them! He has a flare for drama and should have gone into acting but has settled for being a stay-at-home dog.
We're huge pet lovers at The Assist and want to feature a pet each week — fill out this form for your fur baby to be featured!