Start your morning with this affirmation:
Today's checklist: Tap your own motivation mine, stay focused, level-up your amateur design game, and get your April Fool on.
❗ Looking for a new job? Scroll down to our featured job listings.
YOU DO YOU
Motivation 101
Motivation. It feels like power, the special sauce with a secret recipe that turns the average into the exceptional and makes procrastination a nightmare of the past.
You don't have to be born with an organic store of motivation to leverage its power. You don't even have to pay someone to tease it out of you. If you're yearning, or even struggling, to find motivation, experiment with the simple hacks listed in Psychology Today's Motivation Hacks: 12 tactics to help you accomplish your goals and build healthy habits.
(Teaser: Hacks include bundling, chunking, buddying up, and even "tossing" a few snowballs.)
Have fun exploring, and take your time to see which strategy really works for you, your preferences, and your style.
Fun fact: The mysterious workings of motivation have inspired tons of research and even the creation of a lab, the Motivation Science Lab, dedicated to understanding its quiet magic.
SPONSORED BY SUPERHUMAN
Inbox Zero in No Time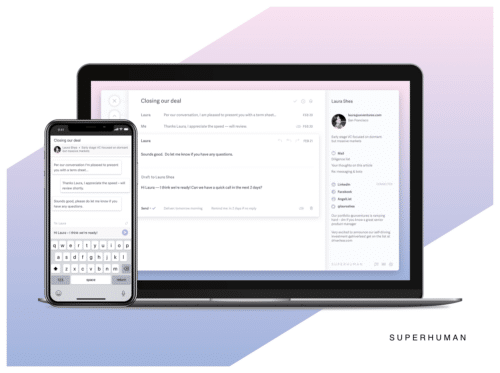 We've all sent them before. Misspelled names. Tragic typos. Emails we regret 🤦🏻‍♀️.
Luckily, we discovered Superhuman.
Superhuman is gorgeous and blazingly fast. It also comes with advanced features that make you feel superhuman 🦸: A.I. Triage. Undo Send. Insights from social networks. Follow-up reminders, scheduled messages, and read statuses — to name but a few.
GET MORE SH*T DONE
A Focus on Focus
Advice for staying focused is easy to come by, especially across all the online venues you *might* find yourself browsing, when you are, in fact, having a hard time focusing. Twitter of course is one such playground filled with fun distractions and also practical advice, like @katgoldliving's elegant post about productivity.
One frame in particular turned our heads, the one titled "Keep learning new skills."
It's a refreshing, counterintuitive, and deliciously rebellious concept: Increase my ability to focus in the long-term by allowing my wanderlusting brain to step out for a brief learning tryst with a new idea?
It's also a sound strategy. Learning new things can boost confidence and blow off the cobwebs of boredom, making you feel refreshed and fresh-eyed to circle back on that thing you couldn't focus on earlier.
SPONSORED BY MONDAY.COM
Do You Know How Much You Actually Work?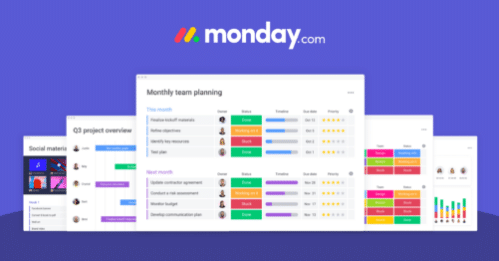 monday.com can either supplement your current workflow or become your sole solution to get things done, and give you clear reporting on what you've spent your time on.
The really cool thing about it is that you can manage all your team's work in one place — very useful for remote teams (oh, and you can get it free if you're strapped for cash).
P.S. Signing up for free won't help you become more productive, you'll also be supporting The Assist!
LEVEL UP
Perfectly Polished Design Resources
Looking good takes time and money, but when it comes to your marketing and social media collateral, it can take a lot less time and a lot less money when you know about the right resources.
Superlative: Most likely to make your agency friends jealous.
Snaps to… 
Superlative: Most likely to bring out your inner artist.
Snaps to… 
Superlative: Most likely to turn you into a social influencer
Snaps to… 
Superlative: Most likely to make you a member of the blogerati
Snaps to… 
WATERCOOLER TALK
April Fools' Rules
In the game of fools, you can play the fooler…or the fooled. Prepare to do some fooling or at least know what might be coming your way this April Fools' Day.
Timeless Pranks 
🙃 The Fake Out 
Execute this classic prank by making someone believe they're getting something dead opposite to what they're actually getting.
Examples include adding frosting to a cardboard box and letting people try for a slice, giving someone a ridiculous horoscope, or even asking someone to help you lift a big box filled with nothing but air.
🎈 The Invasion 
To pull off this classic prank, simply fill someone's home or workspace with items (a lot of items) they probably don't want there.
Such items include plastic flamingos, troll dolls, balloons, or really anything you want.
🔌 The Electronic Meltdown  
Unplug the coffee machine. Tape over the mouse sensor. Empty the remote of its life-giving batteries. Disrupt someone's everyday use of essential electronics and see a range of hilarious reactions that usually don't include calm troubleshooting.
Fool with Caution
60% of the time, humor works every time to connect people and even soothe stress, but as both comedians and scientists will tell you, a little bit of humor goes a long way, sometimes a long way in the wrong direction.
This vintage video from Wall Street Journal offers some evergreen "safety-first" tips to avoid any fool faux pas: 
Choose your "victims" mindfully. If you have any reservations about how they might take it, then just don't fool.
Don't disrupt the work day.
Consider any possible risk of inflicting physical or emotional injury.
⚠️ Brush up on your company policies, you know, just in case.
JUST FOR FUN
Riddle Me This
Why is everyone so tired on April 1st?

(pssst…answer is below)
PARTNER PICKS
In Case You Missed It…
Boxed for Business offers a consumer-like buying experience making procurement easy, efficient, and reliable. The items your office needs are delivered fast, at a competitive rate, directly to you.
Cabinet is the platform for everything executive assistants and admins need to streamline and modernize administrative operations.
Office Otter is the free automated to-do list you didn't know you needed (until now).
The Daily Upside helps you rethink your financial news diet and gives you crisp, unbiased business insights each morning for free.
NEW & NOTEWORTHY
Latest Listings
The Assist Store — Weekly Drop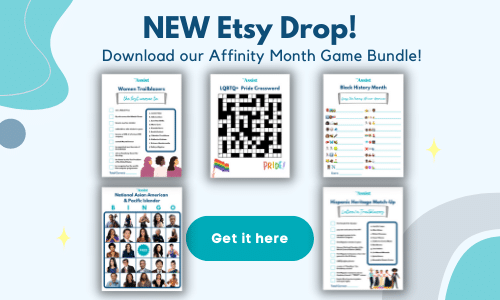 Check out our Etsy store! We added an Affinity Month Game Bundle to our store; it includes 5 games total. We'll be adding more products to our store on a regular basis, so we highly suggest bookmarking it.
Trending Team Building Activities:
🚨Job Alerts
Craving more content? Here are some recs to tie you over until then.
Earth Day is coming up on 4/22! Get some ideas on how to celebrate.
Need help with workplace wellness? Start here.
Work-life balance still remains a challenge for many. Strike that balance with these tips.
🙋🏻‍♀️ Answer to riddle: Because they've just finished a long March!