Start your morning with this affirmation:
Today's checklist: Manage your finances like an expert, get answers to your what-if layoff questions, and work toward overcoming your social anxiety.
GET MORE SH*T DONE
Expert Personal Finance for Non-Experts
You know what they say: "To plan your budget is to believe in tomorrow."
Busted. We're not sure anyone ever said exactly that. (But Audrey Hepburn did say "To plant a garden is to believe in tomorrow.")
Regardless, our edited quote still rings true. If you want to build your wealth and make solid financial decisions, then being on top of (and all over) your budgeting and planning is the way to do it.
These handy tools make it possible for non-financial experts to manage their personal finances with expert ease.
Mint – You'll love it if you like looking at the big picture in one simple interface.
Capitalize – You'll love it if you aren't currently doing anything with your 401K.
Moneydance – You'll love it if privacy is a top priority and concern in this online banking world.
Pylon – You'll love it if you want help achieving your big financial goals.
Mobills – You'll love it if you want to visualize exactly where your money is going.
Fudget – You'll love it if you like to keep your budgeting as simple as possible.
P.S. Don't forget to RSVP to our free lunch and learn next Wed (8/24): How to Make The Most of your 401K. Register here. (Yes, it will be recorded and sent out to registrants post-event.)
TOGETHER WITH ELECTRIC
Unbeatable IT Support with Electric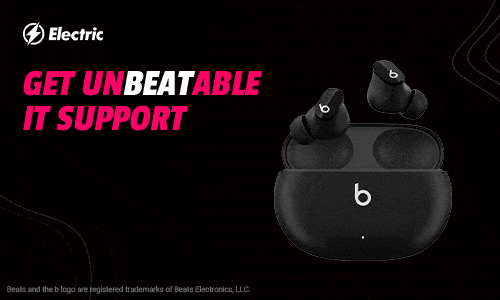 Saving money on IT costs has never sounded so good.
And we mean that seriously—Electric offers lightning-fast, chat-based IT support while saving your business over 50% in IT costs. And better yet, if you take a qualified demo with Electric, they'll offer you top-notch IT plus free Beats Studio Buds earphones.
That's right; Electric is giving away free pairs of Beats Studio Buds to show off just how powerful their solution is. If you're an IT decision-maker at a US company with 10-500 employees, this is for you!
Enjoy a whole new level of IT support with Electric's offering, including proactive security standardization across devices, streamlined employee onboarding/offboarding, and lightning-fast chat support with 130+ experienced IT specialists. Over 900 companies use Electric for their IT needs, and Forrester's Total Economic Impact report has determined it yields a 105% ROI.
LEVEL UP
What if I get laid off?
Layoffs are like cholesterol.
No, really! Like the non-discriminating cholesterol featured in the classic commercials for Lipitor, layoffs don't care who you are, they don't care if you do everything right, they can (and do) happen to anyone, and they can happen at any time, in any economic landscape. (Even now many firms reporting strong revenues, such as Tesla, Microsoft, and Oracle, are making or planning layoffs.)
We're not trying to scare you, but we understand that many of you may be going through or worrying about going through layoffs. The antidote to worrying: Preparing. (As this savvy single mom says, "If you stay ready, you don't have to get ready.")
To help you prepare for the worst-case scenario, we've answered some of your most burning what-if questions about layoffs.
Q: What should I do first if and when I get laid off?
A: Gather all the crucial details about your specific situation from HR or the leaders of your specific employer. Bookmark this comprehensive list of questions from SHRM.
Q: How do I even look for a new job? I've been out of the search game for years!
A: Skip the overwhelm of navigating job boards and lean on referrals. Emma Ding, a layoff survivor and thriver, says, "Asking for referrals proved to be much more effective than applying by myself. Out of about 50 raw applications, I only got 3 interviews, but out of 18 referrals, I got 7 interviews." Check out this video to hear Emma talk more about her layoff experience.
Q: What did I do wrong?
A: In most cases, the answer is nothing at all. According to Chetan Mahajan, layoffs aren't about you, or about you being good or bad. Layoffs are non-personal strategic moves employers make to balance or re-balance costs and employee skill sets.
Q: How do I avoid running out of money?
A: Face the facts (the numbers) and make a solid and realistic plan based on them. Single Mom Money recommends analyzing your current financial commitments and eliminating any and all commitments that aren't "must-haves."
Additionally, find and review your state's unemployment insurance benefits, rules, regulations, and filing procedures, and then make your claim immediately.
Q: What can I do to increase my chances of getting a new job?
A: Brush up your skills in the latest software and tech. This classic layoff survival tip from the LA Times will always be relevant because employers will always value tech acumen.
Q: How will I address my layoff when I do eventually land an interview?
A: Remember: Layoffs are a natural part of a healthy business cycle and not a reflection of a personal failure or flaw on your part. Anyone interviewing you should understand that.
Reduce your interview anxiety long before you even schedule it by making a game plan regarding your references. Do you have any managers or associates at your old company who can reiterate that your layoff had absolutely nothing to do with your performance? Line up those contacts now.
TOGETHER WITH OFFSITE
6 Ways To Plan More Successful (And Less Stressful) Team Retreats
Running a remote-first company is hard. Our friends at Offsite want to make it easier for you by sharing this free eBook sharing "best practices" for planning team retreats from People Leaders at VC-backed startups.
Keeping employees engaged, aligned, and accountable can be challenging when everyone is working from home, and loneliness can become a real struggle if you, as an employer, are not providing adequate opportunities for in-person connection.
Hear from People Leaders at On Deck, Common, Forum Ventures, and other remote-first companies so you can avoid painful mistakes in planning your next Offsite and organize in-person team retreats your colleagues will love.
P.S. People often skip step 1 — don't make that mistake!
YOU DO YOU
Overcome WFH-Induced Anxiety
The isolation of remote work may be relieving to those with social anxiety, but it may also allow said anxiety to get worse, making the idea of ever conquering it feel impossible.
The good news: It's not actually impossible. It only feels that way. Start gaining some control over rampant anxiety with methods grounded in the principles of cognitive behavioral therapy (CBT).
Goal: I will understand the difference between my worries and reality.
With help from…the ABC Model.
Basically, after you experience an episode of anxiety, ask yourself:
A – What was the Antecedent to this feeling? What triggered me?
B – What do I Believe about what happened? Is that true?
C – What were the Consequences of my response? What could I do differently in the future?
Goal: I will communicate in a style that is authentic and comfortable for me.
By remembering that…my style of communicating may be different but it's not better or worse than anyone else's.
One anxious worker found success by translating lessons she learned when working remote to the in-person environment. "When I am able to see my colleagues again, I'll try to use the lessons I've learned from chatting online: take your time to craft your sentences because there is no rush," she says. "And don't be afraid to approach people – think of it as pinging them a message in real life."
Goal: I will cope with my stress instead of collapsing under it.
By remembering to…process and deconstruct my emotions instead of letting them overwhelm me.
The Mighty recommends journaling about the emotions you experience and considering ideas for accepting or acting on them
Goal: I will confront my anxiety with radical self acceptance.
By remembering to…question the logic of my negative self-talk.
Here's an example question: Does this bad situation (mistake, failure, rejection, criticism) take away my good qualities? See SMART Recovery's Unconditional Self Acceptance Tools and Exercises for even more ideas.
<h4″>PARTNER PICKS
Our awesome partners help keep our content free 🥰
NEW & NOTEWORTHY
Latest Listings
Join Our Lunch & Learn: How to Make The Most of Your 401K 
We've partnered with
Capitalize
and Tess Waresmith on this Lunch & Learn to help you reach financial independence faster.
Register
here
 so you can attend, or receive the recording if you can't make it.
The Assist Store
🚨 Help Wanted
Craving more content? Here are some recs to tie you over until then.
👉 We've launched our
Private Facebook Group
!
Join today
.
SPILL THE TEA
Hooray, You Made It to the End of Our Newsletter!
Riddle me this: I have cities, but no houses. I have mountains, but no trees. I have water, but no fish. What am I?
⭐ Answer here.