Start your morning with this affirmation:
Today's checklist: Solidify your stance on a pay cut and soak up the Lunar New Year goodness before the next full moon.
❗ Looking for a new job? Scroll down to our featured job listings.
YOU DO YOU
Should You Take the Cut?
Here's a reader question we've gotten more than once, one that will likely never go out of style:
Should I take a pay cut to have a more enjoyable work experience? 
While we don't have an answer in the traditional sense of the word, we do have prompts and questions to help you consider and arrive at the best answer for you. 
⚠️ Before you dive in: An aside about the illogical nature of personal finance.
Money is objectively countable, and yet, it is subjectively and relatively perceived. The meanings we attach to money vary widely. What "security" means varies widely, as does the level we each equate with optimal happiness.
Criteria the experts have identified in attempts to better define financial security ("feeling in control" or "flexibility to make choices," for example) are ruled by individual personality, experiences, and perceptions. Even cognitive scientists, who aim to demystify such matters, have found it challenging to define and understand the psychology behind saving and investing behaviors.
Why are we telling you all this? To empower you to trust and accept your own instincts and preferences, regardless of the advice you read and hear. A salary that's fine for you may seem way too low to someone else, but you're the one living with it.
⬇ Read on to our next section for question prompts.
SPONSORED BY SOCK FANCY
🧦 Corporate Gifting That'll Rock Your Socks Off
It's Tuesday, and we know you have a TON of emails in your inbox, so we're just going to cut straight to the chase.
Have you had a time where you feel unappreciated? Whether that's as an employee, a client, or even as a friend?
Yup….same here 🙋🏻‍♀️.
Thankfully, Sock Fancy Custom makes corporate gifting a breeze with their premium branded swag, so your hardworking team and loyal clients will always feel top of mind.
It's no wonder companies like Whole Foods, Hyundai & Coca-Cola are running to them for swag needs.
Why we ❤️ Sock Fancy:
👌 Easy customization experience
💸 No set up fees
🙌 Free samples
Experience it for yourself — contact the team today and let them know you're from The Assist. They'll not only ship you samples free of charge, but also include a free design portfolio!
⭐⭐⭐⭐⭐ "Everyone loved the custom socks. We still have some clients text us a photo whenever they're wearing them. Definitely a big hit." — Amelia (Director of Strategy, The Action Factory)
GET MORE SH*T DONE
Pay Cuts: Your Focusing Worksheet
If you're on the fence about taking a job that requires a sacrifice in pay in exchange for work-life happiness, consider the below questions.
Q1: Can you afford it?
Try this: Create a simple monthly budget flow modeling income minus expenses and essential savings. Check the numbers, review them, grasp them — feel them.
Why it helps: As Charlotte Cowles of The Cut says, "You will need to adjust your expenses to align with your new income — which is not a bad thing, but it will require some practical changes." It's good to anticipate what scenario you'll need to adjust to.
Q2: How will the new job with less pay lead to more enjoyable experiences? 
Try this: Make a bulleted list.
Why it helps: Excited by the prospect of change, you might see your new gig through rose-colored lenses. Doing this exercise helps ensure your optimism is grounded in reality.
Q3: Break all the rules and compare yourself to others.
Will you be making significantly less than your partner, peers, or coworkers?
Why it helps: As this NPR article points out, studies repeatedly demonstrate a human desire to be treated fairly. In one example, subjects experienced the most significant drop in morale and productivity when they took a pay cut but their acquaintances did not.
Q4: Consider the ripple effect.
Try this: Is there room for career growth? The possibility of increased pay? Or is your new salary a ceiling for the next ten years?
Why it helps: After you take a pay cut, you'll adjust. It will soon be your new reality. The time before you make a decision is an opportunity, a chance to systematically evaluate two possible futures before you're locked into either.
Q5: Consider the true value of your benefits.
Try this: Start with the quantifiable ones, like dollars of subsidized health care and stock option values. Then look at the intangible benefits. Some of those, like sabbaticals, for example, may hold more value to you than other benefits with more dollar signs attached.
Why it helps: Making a car-purchase decision based on sticker price alone doesn't make sense; neither does making a job-change decision on base salary alone. Benefits like education stipends and daycare subsidies won't plump up your salary, but they may boost your quality of life.
Read more from our sources and inspirations: 
SPONSORED BY HEADSPACE
Finally, an App to Get a Good Night's Sleep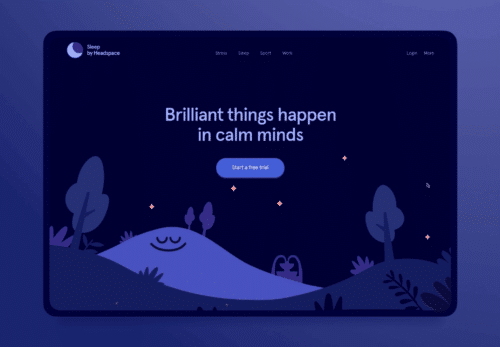 Getting good sleep seems like a simple thing to do, right?
Lay down and close your eyes — piece of cake.
Then how come 32.6% of working adults get less than 7 hours of sleep? And why do women have a lifetime risk of insomnia 40% higher than men?
How about you — did you get a good night's sleep last night, or did you get up to pee again at 3AM and take another 20 minutes to fall back asleep 😩?
Our point is, sleep actually doesn't come so easily for many of us.
Luckily there are more tools than ever to help you get the much needed rest you deserve.
Our favorite app out there right now is Headspace.
It's not free, but hear us out — instead of buying one Starbucks latte in a month, you can use Headspace's meditations and sleepcasts to feel happier, less stressed, and more rested. 
To sweeten the deal, we've gone ahead and partnered with Headspace to give you 14 days to try it for free before you have to commit to ditching that latte.
WATERCOOLER TALK
New Moon, New Year, New Happy
February 1 marked the first new moon of the lunar calendar, ushering in over two weeks of Lunar New Year celebrations.
Holidays that celebrate this lunar event include…
Chinese Chunjie, aka Chinese New Year or Spring Festival
Vietnamese Tet
Korean Solnal
Tibetan Losar
Lunar New Year, which may become a federal holiday in the United States, ends on the first full moon in February.
Here's how you can celebrate and learn before then: 
PARTNER PICKS
In Case You Missed It…
Boxed offers a consumer-like buying experience making procurement easy, efficient, and reliable. The items your office needs are delivered fast, at a competitive rate, directly to you.
Office Otter is the modern to-do list you didn't know you needed (until now). Automatically turn your convos into tasks (text, email, Slack & Siri) for free.
The Daily Upside helps you rethink your financial news diet and gives you crisp, unbiased business insights each morning for free.
NEW & NOTEWORTHY
Latest Listings
🚨Job Alert: Office Otter is hiring for an Executive Assistant. Apply here.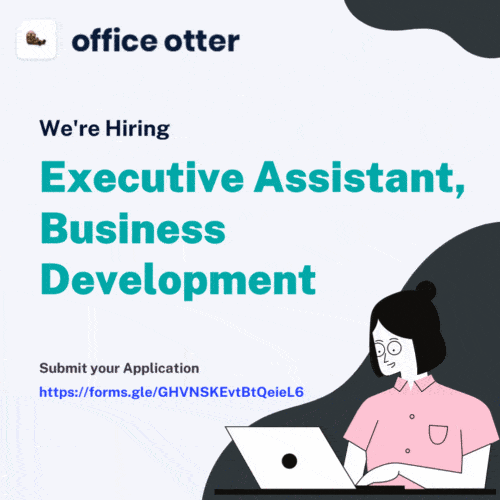 This Week's Trending Team Building Activities:
Can't wait until next week's The Assist? Here are some recs to tie you over until then.
With The Great Resignation taking place, companies need to keep employees happy.
What are employee milestones, anyway? Learn about them here.
Refine your goal setting skills and learn about the SMART method.
P.S. Follow us on Instagram, TikTok & Twitter for additional tips.