Start your morning with this affirmation:
Today's checklist: Learn chess' fundamental life lessons, break your problems to bits, use predictive text to get more done, and browse templates to use for your next jaw-dropping presentation.
LEVEL UP
Winning 101
Want a solid strategic foundation to benefit your work and life? Well, it's time to play — to play chess that is.
The essential tactics that help players win chess games can help you win the game of life. Here are a few fundamental tactics you can swipe for your best-life strategy without even hunching over a game board.
Chess tactic: Protect your king.
IRL parallel: The king may not have the coolest moves on the board, but if he falls, the game is over. The king represents your overarching priorities and goals. You must move them forward slowly and steadily, using all the other pieces for support along the way.
Chess tactic: Structure your pawns. 
IRL parallel: Pay attention to and nurture your support system. Determine what you need to feel safe and protected enough for you and your king to pursue winning the game. Put that structure in place. Keep it in place.
Chess tactic: Control the center. 
IRL parallel: Keep your options open. Consider all the potential outcomes of your decisions and favor those with the potential to branch out in multiple possible directions.
Chess tactic: Sacrifice your pieces wisely. 
IRL parallel: In chess, you're going to have to lose some pieces. In life, you're going to have to let go of some of your goals, tasks, or interests. By accepting that simple reality, you can be better prepared to decide which ones to let go of when the time comes.
SPONSORED BY CABINET
Save the Date: The High Performing EA Summit is Back!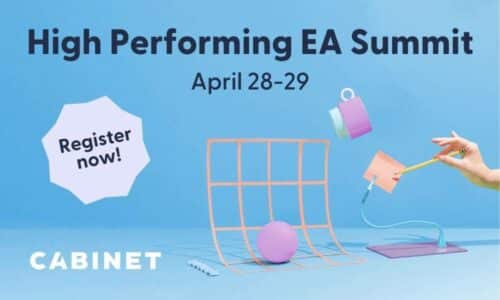 The mission behind the High Performing EA Summit is to inspire.
The team at Cabinet is partnering with Executive Assistant gurus and productivity experts like Hallie Warner, Lauren Bradley, Abigail Barnes, and more, to bring you new ideas and powerful stories to inspire you, wherever you are in your EA journey.
This VIRTUAL two-day event will take place during Administrative Professionals' Week, for 3 hours each day.
After last year's event, we saw rave reviews, including one attendee who wrote, "The Summit was AWESOME! The women were so real and I learned a lot just listening to them. It made me feel like I wasn't alone."
It's a one-of-a-kind event with real, authentic speakers who are making a recognized impact every day. We know you have many choices when it comes to professional development, but this one is a can't miss.
In honor of Administrative Professionals's week this year, invest in yourself by attending the High Performing EA Summit on April 28th and 29th — you deserve it.
YOU DO YOU
Break it Down
Satish Gaire's tweeted productivity advice, to break all big problems into smaller problems, struck as beautifully simple, yet unfortunately, not that obvious.
Problems make our brains process information…let's say, less than logically. We can easily understand that non-threatening things, like goals and plans, should be tackled in incremental steps, but problems make us panic. We forget they can be reduced to anything less than terrifying.
Gaire's advice, and even his simple diagram, is the perfect reminder that even our biggest hairiest problems can be broken into smaller ones we can wrap our heads around.
SPONSORED BY WOYAGO
100% virtual, 100% fun
🎉 SURPRISE — Your team is going on an all-expenses-paid trip to Paris!
Kidding, but also not kidding.
Looking for a new way to show your remote employees some love? How about sending them (and you) on an exciting virtual team building experience?
Introducing Woyago. Their virtual activities are the perfect way to celebrate Employee Appreciation Day (pssst..it's on March 4th this year) or any day of the year.
Choose from a sassy Parisian party, a hilarious scavenger hunt in Italy, a quirky fiesta in Barcelona, or a magical Bollywood movie experience.
So go ahead, dust off your virtual passport and give your employees the gift of adventure.
GET MORE SH*T DONE
Type Less. Communicate More.
Open-source platform Espanso does what Gmail's Smart Compose and other Predictive Text tools do, but across your entire operating system.
This tool detects keywords and fills them in for you. You can even create easily searchable templates to reuse phrases and sentences you end up typing again and again.
WATERCOOLER TALK
Perfectly Polished PowerPoint and Presentation Templates
Save this list and refer to it for your next presentation:
PARTNER PICKS
In Case You Missed It…
Stacked Marketer is a free email newsletter that gives true marketers an edge over the competition.
Boxed offers a consumer-like buying experience making procurement easy, efficient, and reliable. The items your office needs are delivered fast, at a competitive rate, directly to you.
Office Otter is the modern to-do list you didn't know you needed (until now). Automatically turn your convos into tasks (text, email, Slack & Siri) for free.
The Daily Upside helps you rethink your financial news diet and gives you crisp, unbiased business insights each morning for free.
NEW & NOTEWORTHY
Latest Listings
This Week's Trending Team Building Activities:
Can't wait until next week's The Assist? Here are some recs to tie you over until then.
P.S. Follow us on Instagram, TikTok & Twitter for additional tips.