Summary: The book How to Win Friends & Influence People by Dale Carnegie is a guide to improving personal relationships. The main idea is that people want to feel appreciated and understood, and by taking the time to understand others and showing appreciation, it is possible to create positive relationships. The book offers tips on how to do this, such as using positive reinforcement, being interested in others, and making others feel important.
Summary: Dare to Lead by Brené Brown is a book about courageously stepping up to leadership roles. Brown discusses the importance of vulnerability, authenticity, and empathy in leadership, and provides case studies and stories from her own research to illustrate her points. The book is inspiring and empowering and provides readers with the tools they need to become more effective leaders.
Summary: Originals is a book by Adam Grant that discusses the importance of non-conformity in order to create change and innovation in the world. Grant argues that society has become too focused on conformity, and as a result, we are seeing less creativity and innovation. He describes how non-conformists are able to move the world forward by breaking the status quo and challenging the norm.
Summary: In his book Atomic Habits, James Clear argues that making small, consistent changes is the key to long-term success. He offers a variety of tips and tricks for making habits stick, from breaking them down into smaller goals to using visualization techniques to keep yourself on track. Ultimately, Clear's goal is to help you create the habits that will allow you to achieve your dreams and live a better life.
Summary: In her book "You Are a Bad***: How to Stop Doubting Your Greatness and Start Living an Awesome Life", Jen Sincero urges readers to stop doubting their own greatness and start living an awesome life. Sincero provides readers with a roadmap for change, outlining steps that will help them to identify and overcome the personal barriers that are holding them back. Drawing on her own experiences and those of others, Sincero provides readers with the tools they need to start creating the life they want to live.
Summary: The Subtle Art of Not Giving a F*ck: A Counterintuitive Approach to Living a Good Life is a self-help book by Mark Manson. The book discusses the importance of accepting that life is full of pain and suffering, and that one should not try to avoid or "fix" these things. Instead, Manson argues that one should learn to accept them as a part of life and focus on more important things.
Summary: In her book Year of Yes, Shonda Rhimes recounts her journey from saying no to everything to learning to say yes. She reflects on the impact that this newfound willingness to try new things had on her life, both professionally and personally. Rhimes opens up about her fears and insecurities, and shares some of the lessons she learned along the way.
Summary: The Four Agreements is a book by Don Miguel Ruiz that discusses how to find personal freedom through four agreements. The first agreement is to be impeccable with your word, the second is to not take anything personal, the third is to do your best, and the fourth is to forgive. The book emphasizes the importance of self-awareness and understanding our own truths in order for us to create fulfilling lives.
Summary: The book Stop Overthinking by Nick Trenton is a self-help guide that provides 23 techniques to relieve stress, stop negative spirals, declutter your mind, and focus on the present. The author suggests that readers take small steps to improve their mental health and well-being, as well as practice mindfulness and meditation. He also encourages people to be patient with themselves, as change does not happen overnight.
Summary: The High 5 Habit is a book by Mel Robbins about changing your life for the better with one simple habit. Robbins argues that the key to success is to identify your "high 5" moments – the five things that make you feel best and make you feel alive. Once you know what your high 5 moments are, you can use them to motivate yourself to achieve your goals. The book provides tips and advice on how to cultivate a high 5 habit in your own life, including strategies for overcoming obstacles and staying motivated.
Summary: The Power of Habit is a book by Charles Duhigg that explores the science behind habit formation and how to change bad habits. Duhigg cites case studies and scientific research to argue that habits are not only pervasive in our personal lives, but also in our professional lives and in the way businesses operate. He offers strategies for understanding how habits work and for changing them when they don't serve us well.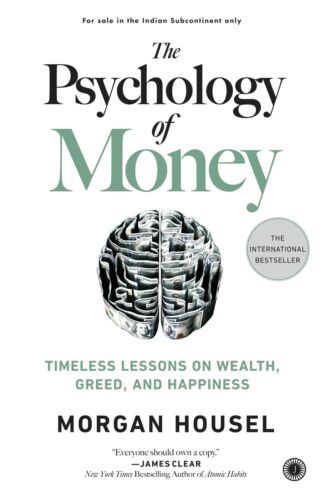 Summary: The Psychology of Money by Morgan Housel is a book that discusses the psychological factors that influence how people think about, use, and save money. Housel offers insights and advice on how to manage money responsibly and make the most of it. He draws on research from psychology and behavioral economics to explain why people make financial decisions the way they do. The book offers a fresh perspective on money management and is a great resource for anyone looking to improve their financial health.
Summary: Dalio is the founder of Bridgewater Associates, one of the world's largest and most successful hedge funds. In "Principles," he shares the unconventional principles that have guided him and his company for forty years. These principles include: Think for yourself, Start with the facts, Draw your own conclusions, Be open to change, Embrace failure, Put people first, and Seek truth.
Summary: Leaders Eat Last is a book by Simon Sinek that discusses the idea of team dynamics and how to create a team that is able to pull together. Sinek argues that the best teams are those in which the members feel that they are part of something larger than themselves, and in order to create such a team, the leader must first create a sense of safety. He discusses several factors that contribute to a team's ability to work together cohesively, including trust, respect, and common purpose.
Summary: In her book Quiet: The Power of Introverts in a World That Can't Stop Talking, Susan Cain argues that society favors extroverts over introverts. She makes the case that introverts have many strengths that are overlooked and undervalued in our culture. Cain cites research to show that introverts are more successful in fields like law, science, and business than is commonly assumed. She also shares stories about famous introverts like Rosa Parks and Steve Wozniak to illustrate the different ways introversion can be a strength. Quiet is an important book for anyone who wants to better understand themselves or someone else who seems "different."