SPONSORED BY MONDAY.COM
How to Make Your Mondays Not Suck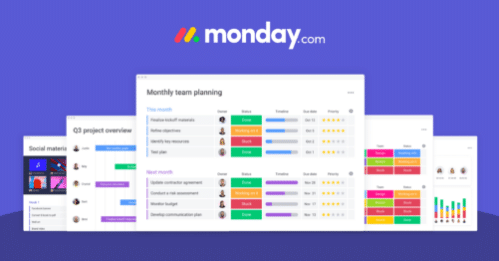 If you're old school and keep a notebook and pen handy to write down your to-dos, or use a handful of apps to stay on top of projects, monday.com can either supplement your workflow or become your sole solution to get things done.
The really cool thing about it is that you can manage all your team's work in one place (oh, and you can get it free if you're strapped for cash).
No more endless e-mail threads or long meetings. With monday.com you can keep track of everything your team's working on, communicate in context, and get started in minutes with a super easy set-up.
P.S. We love their content calendar & event planning templates.
SPONSORED BY THE DAILY UPSIDE
Add This to Your Reading List
If you love The Assist (🤞 fingers crossed you do), you must value getting crisp insights and actionable intel without all the BS.
The Daily Upside, founded by a team of bankers and journalists, is another great newsletter for big-brained readers.
Built with investors in mind, The Daily Upside is packed with heavy-hitting analysis and stories you simply won't find elsewhere.
It's the perfect complement to The Assist, striking that elusive balance of gravitas and wit.
PARTNER PICKS
In Case You Missed It…
Thnks is a platform for building stronger business relationships through efficient, personalized and thoughtful gestures of appreciation. Send to anyone instantly via text or email.
Uber for Business makes it easier than ever to impress clients or team members with meal and ride vouchers (plus, you only get charged for what actually gets used).
Cabinet is the platform for everything executive assistants and admins need to streamline and modernize administrative operations.
Boxed offers a consumer-like buying experience making procurement easy, efficient, and reliable. The items your office needs are delivered fast, at a competitive rate, directly to you.
NEW & NOTEWORTHY
Latest Listings
The Assist Store — Weekly Drop
Check out our Etsy 
store
! We added an 
Affinity Month Game Bundle
 to our store; it includes 5 games total. We'll be adding more products to our store on a regular basis, so we highly suggest bookmarking it.
Trending Team Building Activities:
Craving more content? Here are some recs to tie you over until then.
Earth Day is coming up on 4/22! Get some ideas on how to celebrate.
Need help with workplace wellness? Start here.
Work-life balance still remains a challenge for many. Strike that balance with these tips.