SPONSORED BY ASAP
ASAP believes you deserve more than one day of recognition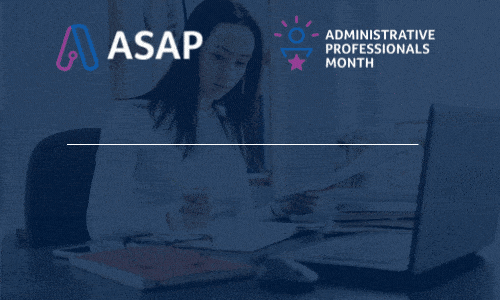 So they've dedicated all of April to celebrating YOU and your hard work with discounts, exclusive training, and more!
Next month, ASAP is offering Buy One Get One FREE on ALL WEBINARS!  This is your chance to get the latest training for half the price. Check out their most recent webinars on top tech tools for 2022 and a TWO part series on getting unstuck in your career!
Not interested in those topics? Don't worry they have hundreds more!
Also, have you heard about the Professional Administration Certificate of Excellence? Earning your PACE and placing the PACE designation after your name enables you to demonstrate your depth of knowledge, expertise, and commitment. It positions you as a credible professional who is serious about your career.
Want to learn more about the value of PACE? Attend one of our PACE Demo Days in April and learn from our training managers the ins and outs of the certification program.
BONUS: Attend one of the Demo Days and you'll get $75 off your PACE enrollment. Sign up here.
Hope you're still reading because we heard there might be a giveaway in April. Make sure to follow them on your social networks.
SPONSORED BY THE DAILY UPSIDE
Add This to Your Reading List
If you love The Assist (🤞 fingers crossed you do), you must value getting crisp insights and actionable intel without all the BS.
The Daily Upside, founded by a team of bankers and journalists, is another great newsletter for big-brained readers.
Built with investors in mind, The Daily Upside is packed with heavy-hitting analysis and stories you simply won't find elsewhere.
It's the perfect complement to The Assist, striking that elusive balance of gravitas and wit.
PARTNER PICKS
In Case You Missed It…
Thnks is a platform for building stronger business relationships through efficient, personalized and thoughtful gestures of appreciation. Send to anyone instantly via text or email.
Office Otter is the free automated to-do list you didn't know you needed (until now).
monday.com is the secret to effortless collaboration with your team. Try it free today.
MatchaBar is our latest obsession; it's delicious, helps you focus, and has a ton of health benefits.
NEW & NOTEWORTHY
Latest Listings
The Assist Store — Weekly Drop

We're so excited to announce The Assist store! We'll be adding more products to our store on a regular basis, so we highly suggest bookmarking it.
Trending Team Building Activities:
Craving more content? Here are some recs to tie you over until then.
Celebrating an upcoming birthday? Get gift inspo here.
Hiring top talent still proves to be difficult these days. Swipe these hiring tips.
Onboarding employees doesn't have to be boring. Make it more fun.
P.S. Follow us on Instagram, TikTok & Twitter for additional tips.