Happy Cesar Chavez Day!
SPONSORED BY PAINT THE TOWN
Book your next team event and get $20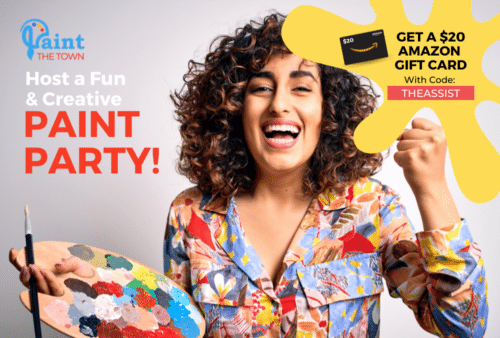 Bring your team together for a fun and creative time, with a paint party from Paint the Town.
🎨 Even if you've never picked up a paintbrush before or think of yourself as the next Picasso, this is the perfect event to switch things up with your team and help treat burnout (there is something about brushstrokes that is SO relaxing).
Why paint with them?
📍Bond from anywhere: join them from home for a virtual event, or let their artists come to you to gather in person!
🔒 Private to your group: great for end-of-quarter celebrations, happy hours, team events, or even friends & kids events.
1️⃣  One-stop shop: everything is provided, including painting supplies for each guest. (Free shipping in the USA!)
Available worldwide for virtual events, and in select cities for in-person events.
*Book an event by 4/30 and receive a $20 Amazon gift card
Use Code: THEASSIST
SPONSORED BY MORNING BREW
Get Smarter in Just 5 Minutes With Morning Brew
There's a reason over 3 million people start their day with Morning Brew—the daily email that delivers the latest news from Wall Street to Silicon Valley. Business news doesn't have to be dry and dense…make your mornings more enjoyable, for free.
P.S. Morning Brew is a huge influence on us and helped inspire us to launch The Assist. We highly recommend giving them a read.
PARTNER PICKS
In Case You Missed It…
Thnks is a platform for building stronger business relationships through efficient, personalized and thoughtful gestures of appreciation. Send to anyone instantly via text or email.
Office Otter is the free automated to-do list you didn't know you needed (until now).
monday.com is the secret to effortless collaboration with your team. Try it free today.
MatchaBar is our latest obsession; it's delicious, helps you focus, and has a ton of health benefits.
NEW & NOTEWORTHY
Latest Listings
The Assist Store — Weekly Drop
Check out our Etsy 
store
! We added an 
Affinity Month Game Bundle
 to our store; it includes 5 games total. We'll be adding more products to our store on a regular basis, so we highly suggest bookmarking it.
Trending Team Building Activities:
Craving more content? Here are some recs to tie you over until then.
Earth Day is coming up on 4/22! Get some ideas on how to celebrate.
Need help with workplace wellness? Start here.
Work-life balance still remains a challenge for many. Strike that balance with these tips.