SPONSORED BY OFFICE OTTER
You Can To-Do It All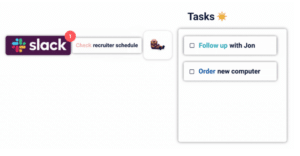 With Office Otter, you can convert your daily requests and messages automatically into tasks in one place to help you do your best work.
Designed with the utmost simplicity, Office Otter is intuitive and easy to use:
💵 Have confidence and work towards a promotion with our powerful downloadable performance reports.
🚀 Start the week with your top priorities through smart due dates.
 ✅ Never miss a step with their Checklists.
You're a people person. Stop forcing scattered tools that weren't made for you, and thrive in your role with Office Otter.
FROM CLAIRE FROM LADIES GET PAID
How to Build a Better Relationship with Your Boss
Your boss: Like it or not, they play an important role in your professional life. Why? Well, if you want to continue to climb the career ladder and make forward progress in your career, your boss's favorable opinion is (very) important.
Plus, when you spend so much time working with someone, it's only natural to crave at least a decent rapport between the two of you. However, you don't need me to tell you that establishing and fostering a positive relationship with your superior isn't always so easy. It can be tough to walk that line between overly professional and a little too comfortable.
SPONSORED BY HEADSPACE
Finally, an App to Get a Good Night's Sleep
Getting good sleep seems like a simple thing to do, right?
Lay down and close your eyes — piece of cake.
Then how come 32.6% of working adults get less than 7 hours of sleep? And why do women have a lifetime risk of insomnia 40% higher than men?
How about you — did you get a good night's sleep last night, or did you get up to pee again at 3AM and take another 20 minutes to fall back asleep 😩?
Our point is, sleep actually doesn't come so easily for many of us.
Luckily there are more tools than ever to help you get the much needed rest you deserve.
Our favorite app out there right now is Headspace.
It's not free, but hear us out — instead of buying one Starbucks latte in a month, you can use Headspace's meditations and sleepcasts to feel happier, less stressed, and more rested.
To sweeten the deal, we've gone ahead and partnered with Headspace to give you 14 days to try it for free before you have to commit to ditching that latte.
A QUOTE TO LIVE BY
From Amy Poehler
"If you can dance and be free and be embarrassed, you can rule the world."