SPONSORED BY OFFICE OTTER
You Can To-Do It All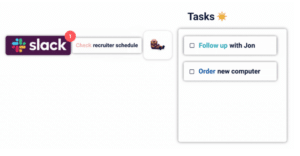 With Office Otter, you can convert your daily requests and messages automatically into tasks in one place to help you do your best work.
Designed with the utmost simplicity, Office Otter is intuitive and easy to use:
💵 Have confidence and work towards a promotion with our powerful downloadable performance reports.
🚀 Start the week with your top priorities through smart due dates.
 ✅ Never miss a step with their Checklists.
You're a people person. Stop forcing scattered tools that weren't made for you, and thrive in your role with Office Otter.
FROM CLAIRE FROM KARA MASON
How to Take the Best Notes
If there's one thing for sure, it's that effective note-taking is important — but it can sometimes be challenging 😅.
We've been taking notes since our school days — but a fast-paced meeting or spontaneously gathering additional information for a project can leave us scrambling and wanting more from our unorganized and sparse notes.
No fear! There are a bevy of ways to make sure you don't forget any important details and you feel prepared for whatever step is next.
SPONSORED BY STACKED MARKETER
Top-notch Marketers Read This Newsletter Everyday
Do you know what marketers from Meta (AKA Facebook), Google, Amazon, Shopify, Redbull, Salesforce, Linkedin and Pepsi all have in common?
They read the Stacked Marketer newsletter on a daily basis to learn about digital marketing and be up to trend.
And, of course, we do it too.
Every weekday, you get the breaking news, insights, advertising hacks, tips & tricks for all your digital marketing (social media ads, search ads, native ads, SEO, affiliates, email, and more).
Best of all, it's 100% free — just like our newsletter 🙌.
Subscribe to Stacked Marketer and join more than 28,000 other marketers who trust it to become smarter everyday.
A QUOTE TO LIVE BY
From Mae West
"You only live once, but if you do it right, once is enough."
PARTNER PICKS
In Case You Missed It…
monday.com is the secret to effortless collaboration with your team. Try it free today.
MatchaBar is our latest obsession; it's delicious, helps you focus, and has a ton of health benefits.
Cabinet is the platform for everything executive assistants and admins need to streamline and modernize administrative operations.
CreditNerd helps improve your credit health by monitoring your reports & scores. Get access with 7 days free.
NEW & NOTEWORTHY
Latest Listings
😲 Surprise — The Assist Store is Here!

Check out our new store! We'll be adding more products to our store on a regular basis, so we highly suggest bookmarking it.
Craving more content? Here are some recs to tie you over until then.
P.S. Follow us on Instagram, TikTok & Twitter for additional tips.