Brainteaser of the day: A man was walking in the rain. He was in the middle of nowhere. He had nothing and nowhere to hide. He came home all wet, but not a single hair on his head was wet. Why is that?
Click here to see the answer.
WEEKEND FINDS
Treat Yo'Self
TOGETHER WITH REVELA
Bye, bye sparse brows
Ever dreamed of thicker, fuller brows? Enter: Revela's groundbreaking formulas. Their feature ingredient in all of their products is ProCelinyl— the first AI-discovered molecule that directly targets and supports follicle health. From over plucked brows to hair loss, you can trust Revela on your journey back to stronger, healthier hair.
Meet the Brow Serum:
Restores sparse brows in 6-8 weeks.
Water-based formula for a lightweight application
Safe to use with all makeup and skincare
Backed by Revela's 90 day guarantee
FROM PSYCHE
How to take things less personally
The other day, I found out that one of my close friends had an extra ticket to a football playoff game, and he invited another friend instead of me.
Hurt by this apparent slight, I thought I must have done something to make my friend mad, but I couldn't figure out what it was. I also wondered if my friend thought I'd be a boring guest who's not much fun to bring to a game. I wasn't quite sure at first how to handle it, but eventually I decided to casually share what I'd heard the next time I saw him.
He replied: 'Yeah, I thought about asking you, but I know you don't like football,' which made me laugh – in part because it was true, but also because I had been so focused on what I believed this incident said about me that I overlooked a more likely explanation for his decision.
This example highlights two biased forms of thinking that involve taking things too personally. The first is personalisation, which is believing that you're the cause of a negative event, despite having little or no evidence to support the belief.
TOGETHER WITH OFFICE OTTER
The Dream To-Do List
With Office Otter, you can automatically convert your daily requests and convos throughout the work day into individual tasks on your to-do list.
Here are 5 steps to use it effectively:
After creating your free account, make sure you enable the integrations (Chrome, text, email, Slack).
When you create a task make sure you add an urgency tag (now, soon, later, not sure) to help with prioritizing.⭐ Tip: Create an event out of the task to timeblock your calendar.
Check reporting at the end of the week to see how you're stacking up against your goals.
Review your leftover tasks and revise them for the next day.⭐ Tip: Since Office Otter tracks your completed tasks and effectiveness, you can leverage the reports in your next performance review.
Celebrate your wins by viewing your completed tasks.
TOGETHER WITH NEBULA
Leadership tips for each zodiac
A good boss is a person that has good leadership skills and knows how to organize and manage the work, but also one who is open to suggestions and values their employee's opinions.
There is always room for improvement, and based on your Zodiac sign, we discover the type of boss you could be and give a little advice on what you could improve to become even better.
You probably have noticed how certain people are born to be leaders, and in Astrology, some of the leadership skills required to be a great boss are given by nature. However, other signs have to work hard to be referred to as a good boss.
*Please note that although the article is only available on iOS, the app is available on both platforms.
A QUOTE TO LIVE BY
From Joe Kennedy
"When the going gets tough, the tough get going."
Joanna's Recs
Cameron's Recs
Show to binge 📺 :
My Next Guest Needs No Introduction with David Letterman(Netflix)
Song to bump 🎵:
Betty (Get Money) by Yung Gravy
Movie 🎬 : Onward
Book 📚:
Verity by Colleen Hoover
PARTNER PICKS
In Case You Missed It…
Sunsama is the only app that helps you build "atomic habits" for success. Trial it free for 14 days.
Shortwave treats email like the to-do list that it really is, so you don't have to track everything in your head.
Athletic Greens is the foundational nutrition your body is begging you for (and it tastes delicious). Enjoy a year's supply of Vitamin D and 5 travel packs for free with your first order.
Wine Access makes it easy to discover and enjoy the world's most inspiring wines through expert curation. Enjoy $20 off your first order of $50+.
NEW & NOTEWORTHY
Latest Listings
The Assist Store
🚨 Help Wanted
Craving more content? Here are some recs to tie you over until then.
👉 We've launched our
Private Facebook Group
!
Join today
.
PETS OF THE WEEK
Doug & Rhino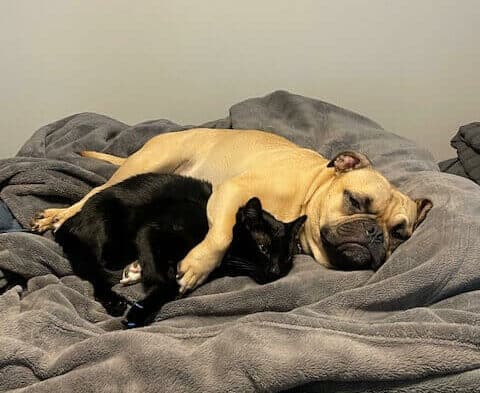 Meet Doug and Rhino! Doug is an American Bulldog and Rhino is the adorable cat cuddling with him. They are best friends and we can't get enough of them 😍.
We're huge pet lovers at The Assist and want to feature a pet each week — send us a photo of your fur baby to be featured!
💌  Reply to hello@jointheassist.com with your pet's name, photo and a fun fact about your pet.