Each week, we'll highlight a badass woman from our community and you'll have the opportunity to nominate a member to be featured in a future issue (heck, you can even nominate yourself 🙌).
❗ Looking for a new job? Scroll down to our featured job listings.
WOMAN OF THE WEEK
Meet Priyanka Peeramsetty 👋
Hi, I'm Priyanka!
I am the cat that curiosity did not manage to kill. I get things done 🤞.
I am Civil Engineer turned Liberal Arts enthusiast — a Young India Fellow, and an Ashoka-HBx Fellow. In the last 6 years, I have helped companies (WeWork India, Darwinbox, L20) kickstart operations, engage members & partners through tech interventions. Currently, I am the Chief of Staff and the Culture junkie at Peppo 💌
I have also been fortunate to design interventions for Governments & Non-Profit Foundations by understanding their pain points — some of my projects include designing a women's startup incubator and a leadership lab, implementing skill initiatives, training young community leaders. Building and deploying engagement platforms has been an incredible experience for me 📈.
I have been recognized with the Women Economic Forum 2019 Award of "Iconic Woman Creating a Better World for All". I have been a Global Shaper of the World Economic Forum, Asia's Kectil Colleague, and a Mentor of Change, Atal Tinkering Labs of Niti Aayog, Government of India. I have been invited to represent India in several Global Leadership Conclaves and immersive programs 🤝🏽.
Real talk? I am just fascinated by ideas and I try to get by each day by learning something new from conversations, communities, and conflicts. Aren't we all? 🌻
✨ Want to connect with Priyanka? Say "hi" on LinkedIn or Instagram.
SPONSORED BY CABINET
Female Founder Highlight: From Executive Assistant to CEO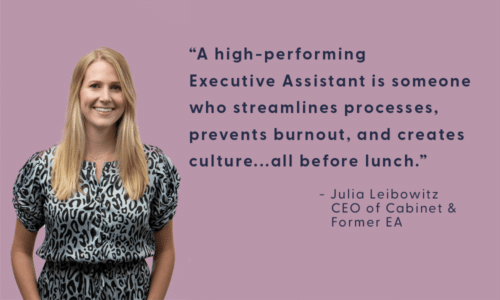 Julia Leibowitz has been a member of the State of The Executive Assistant Group since 2018, when she decided to leave her job as an EA and had the lightbulb moment for Cabinet. What Hollywood usually portrays as tiresome work on behalf of a thankless leader, she found fun. "I know this is going to sound strange, but I loved scheduling."
So she teamed up with Evan Kesten and founded Cabinet as a tribute to assistants who have always worked hard, each and every day, to keep the wheels spinning for their organizations and colleagues. "At Cabinet what we're really doing is making the fun….even more fun by eliminating some of the chaos and creating more space for assistants to enjoy what they love."
This week is a big week for Cabinet, as they are opening up the scheduling platform for more admins with two new affordable pricing plans. "Calendly was the biggest thing to happen to calendars, but it was not designed for assistants. Cabinet's scheduling platform WAS made for them."
The Basic tier of Cabinet which offers syncing with Google & Outlook calendars, automated time availability, booking links, and the meeting log is completely FREE. The Essentials tier, which costs only $12 per month, includes all of that plus group scheduling and a zoom integration. Not bad!
We're happy to recognize this Former EA turned CEO, and hope you'll support her exciting company Cabinet.
Q&A CORNER
Priyanka's Secrets
Q: What's something you do to help boost your productivity?
A: I have stopped believing the popular definition of productivity — getting more done in less time.
I now chase authenticity instead of efficiency. In the rush to get an outcome done, we subconsciously chase speed over quality and often our very own unique perspective doesn't get the room to be showcased.
This is why I set reasonable target timelines, I take my time to do the research, understand what I am doing and the WHY of it — the objectives and implications get fine tuned at this stage. And then I dabble the outcome with my own creative spin, because everything is a story and it needs to be remembered and understood with clarity, so I'd use visual tools/word cues to drive the point home.
Q: How do you find work life balance?
A: It's a non-negotiable choice at the end of the day. One would have balance if they consciously work toward it; often, the lines get blurred because something that you are doing for fun might spark an idea for a project you are working on.
What I try to do is marry each of my personal and professional spheres and not win one at the cost of the other.
Q: What's the best piece of professional advice you've received so far?
A: Don't seek out external validation ever, for no one knows your journey better than you do.
Q: What's your favorite software or app that helps with your workflow?
A: Google calendar is my one-stop solution as everything I do is on it. My workout slots, my meal slots, my recurring stand-ups, my deep work sprints and even my journal time.
Q: What's a book or podcast you'd recommend to a colleague?
A: Principles by Ray Dalio and How to Do Nothing by Jenny Odell; both of these books give the ultimate framework at how one could look at their life holistically — professionally and personally.
⚡ Swipe these storytelling tips.
✨ Inspire authenticity at work.
SPONSORED BY CANVA
Canva — How Do We Love Thee? ✍ Let Us Count The Ways.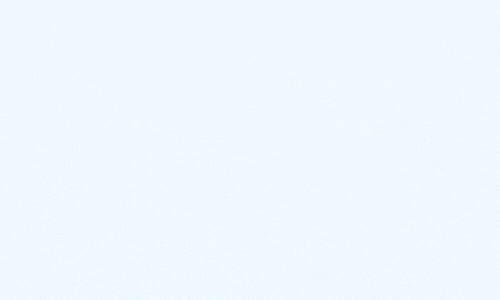 Whether or not "designer" is in your job title, chances are you've probably had to design something at work or even at home (that amazing "IT IS YOUR BIRTHDAY." sign didn't design itself).
The thing we love about Canva (other than it being free) is its intuitive interface — no matter how much or how little you know about design, you'll be given the tools to create something beautiful quickly (tip: look through their templates for inspo).
From work presentations 📈 to wedding invitations 💌 — Canva's the Swiss Army knife you can pull out to design all of the things.
BLESSINGS IN LESSONS
Vulnerability is a Strength
Here's one of my favourite stories of #WomenLiftingWomen from my 1st job ~2017.
One of my clients ran an experimental school in a small town in Gujarat and I was asked to understand teachers' motivations and identify ways to enhance their productivity, morale and confidence.
I drove there with a videographer, interviewed all the 40+ teachers (all women!), Oprah style, for an hour long each! I asked prompts ranging from their personal stories to their apprehensions in bringing their best to work, day in and day out.
Though I had a questionnaire I prepared for reference, I realized the charm of spontaneity is best. I have some amazing memories of laughter, grief and absolute vulnerability, despite being recorded on a camera. I guess that's also when I personally realized how powerful trust is.
This is one of those moments in my career where I look back and am reminded three things:
Amplifying women's voices is crucial.
Listen like your life depends on it.
Empathy can be a superpower.
❤️ Learn how you can bring empathy into the workplace.
💡Embrace vulnerability at work.
PARTNER PICKS
In Case You Missed It…
Office Otter is the free automated to-do list you didn't know you needed (until now).
monday.com is the secret to effortless collaboration with your team. Try it free today.
Headspace will help you sleep like a baby and center your mind, no matter what mood you're in. Enjoy 14 days free.
MatchaBar is our latest obsession; it's delicious, helps you focus, and has a ton of health benefits.
NEW & NOTEWORTHY
Latest Listings
😲 Surprise — The Assist Store is Here!
We're so excited to announce
The Assist store
! We'll be adding more products to our store on a regular basis, so we highly suggest bookmarking it. As always, your feedback is always welcome!
Trending Team Building Activities:
P.S. Follow us on Instagram, TikTok & Twitter for additional tips.
NOMINATE TO BE FEATURED
Know any go-getters? Send them our way.
Do you have a mentor, colleague, family member or friend who inspires you on a regular basis?
Give them some much deserved kudos and shout them out to our growing TA community.