Each week, we'll highlight a badass woman from our community and you'll have the opportunity to nominate a member to be featured in a future issue (heck, you can even nominate yourself 🙌).
❗ Looking for a new job? Scroll down to our featured job listings.
WOMAN OF THE WEEK
Meet Sara Bandurian 👋
Hi!
I'm Sara, the Operations Supervisor at Online Optimism, a digital marketing agency with offices in New Orleans, DC, and Atlanta. I moved from California to New York to New Orleans, where I fell in love with the culture and planted my roots.
Since becoming an Optimist in March of 2020, I've headed building out our Operations department, which handles our hiring and recruiting efforts, developing our processes and policies as we grow, and building a company culture based on community, innovation, and trust.
✨ Want to connect with Sara? Say "hi" on LinkedIn.
Q&A CORNER
Sara's Secrets
Q: What's something you do to help boost your productivity?
A: To boost productivity, I break up my to-do list using the Rule of Three.
Each morning, I look at my Asana task list, calendar, and email. Based off these, I prioritize three tasks to get done that day. Beyond that, I can get as many smaller tasks as possible done.
I regularly receive new, smaller tasks throughout my day, and found that clearly visualizing three goals keeps me focused and able to tackle smaller tasks toward the end of the day.
Q: How do you find work life balance?
A: I love that our company stresses work-life balance.
We encourage everyone to not check their work email once they are off the clock. Even the CEO makes a conscious effort to remind employees to not check emails regularly.
If something is absolutely needed, we'll call or text an employee. Once I clock out for the day, I disconnect from all work accounts and focus on my personal life.
Q: What's the best piece of professional advice you've received so far?
A: I love the mantra "Be scared, but do it anyway" to remind myself to challenge myself, and break out of my comfort zone.
I firmly believe that personal and professional growth come from taking chances. I've switched careers, learned how to use new tools, met with other industry professionals, and presented at local networking events.
While all of these took the courage from myself and the support of my team, I've watched myself gain confidence in my work and perspective on how to further improve myself and my company through experience.
Q: What's your favorite software or app that helps with your workflow?
A: I love to use Asana! I'm very big on lists, and love how collaborative and flexible this tool is for client work, internal tasks, and simple reminders.
As the Operations Supervisor, I'm regularly setting tasks for individuals, departments, or the whole team via Asana.
Q: What's a book or podcast you'd recommend to a colleague?
A: Our team read So You Want to Talk About Race by Ijeoma Oluo together.
I highly recommend this as a starting point for a company to gain a shared vocabulary and base-level understanding of racism, to help in furthering your DE&I efforts.
⚡ Become an Asana pro in no time with these tips.
👣 Learn what steps you can take to foster DEI in your workplace.
SPONSORED BY BOXED FOR BUSINESS
Save up to $50 on Bulk 📦 🧻 🧹
Stay stocked up with Boxed for Business. Save on bulk-sized snacks, cleaning supplies, paper products and more delivered to your door.
Why we ❤️ shopping Boxed:
💰 Best bang for your buck
🙅‍♀️ No membership fees
🎉 Surprise extras
Every box is packed with care and includes a thank you note. You can even add free samples to every order and check back weekly for freebies and giveaways.
Boxed for Business is the better way to shop bulk — they makes it easy to not run out of the essentials you need.
Save 25% on First Orders $125+*
Use code: THEASSIST
BLESSINGS IN LESSONS
How to Maintain Company Culture Post Pandemic
As a digital marketing company, the transition to working remotely at the start of the pandemic was a seamless switch. We actually kept our office spaces, so our employees can socialize and have a fun place to work that is outside their homes, if they want it. Even with the offices available though, the majority of our staff works predominantly remotely.
While this has offered flexibility, it has made maintaining strong levels of company culture and employee engagement more difficult, and I've had to find ways to combat this.
To solve this, I've created leadership positions within our Culture Committee. We are lucky to have a team of employees who want to take part in their company culture; over 80% of our team is a member of our Culture Committee!
I created different subgroups including Health+Wellness, DEI Initiatives, Employee Engagement, Professional Development, and Company Merch. Each group is voluntarily led by an employee who is given a generous budget to plan company events and creates goals with me for their group to meet each trimester.
Not only has this taken much of the pressure of maintaining a strong company culture off my shoulders, but it's given our employees a sense of ownership, allowed them to bring the change they want to see in the company, and implement their subgroups' ideas.
I've struggled with delegation in the past and have worked to better these skills for myself, and this restructuring of our Culture Committee has greatly helped me to confidently assign tasks to other members of our team.
📚 Learn how to cultivate a stronger remote culture.
⚡ Sharpen those delegation skills.
💡 Are you a first time manager? Check out this article for more tips on managing teams.
SPONSORED BY MONDAY.COM
Stop, Collaborate & Listen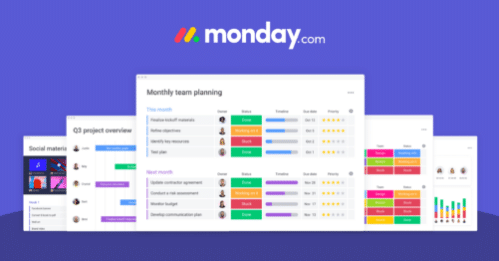 If you're old school and keep a notebook and pen handy to write down your to-dos, or use a handful of apps to stay on top of projects, monday.com can either supplement your workflow or become your sole solution to get things done.
The really cool thing about it is that you can manage all your team's work in one place — especially useful for remote teams (oh, and you can get it free if you're strapped for cash).
No more endless e-mail threads or long meetings. With monday.com you can keep track of everything your team's working on, communicate in context, and get started in minutes with a super easy set-up.
P.S. Signing up for free won't just help you become more productive, you'll also be supporting The Assist 😊.
NOMINATE TO BE FEATURED
Know any go-getters? Send them our way.
Do you have a mentor, colleague, family member or friend who inspires you on a regular basis?
Give them some much deserved kudos and shout them out to our growing TA community.